Learn about all solar panel installs in Kenmore
Considering solar panels in Kenmore?
Kenmore, the crown of Lake Washington, is a fantastic city for solar! Our office is right off Bothell-Kenmore highway on 73rd ST NE, and we have a solar array on both buildings. Check out our Energy Office production through our monitoring system here. With the lake directly south of Kenmore, most homes have great south-facing roofs that are an ideal spot for solar panels. If you live in Kenmore, please come by our shop during work hours to check out the office, our solar panel table, and the products we will install at your home! We're your neighborhood electric and solar contractor and we would love to partner with you to create a more sustainable and resilient Kenmore!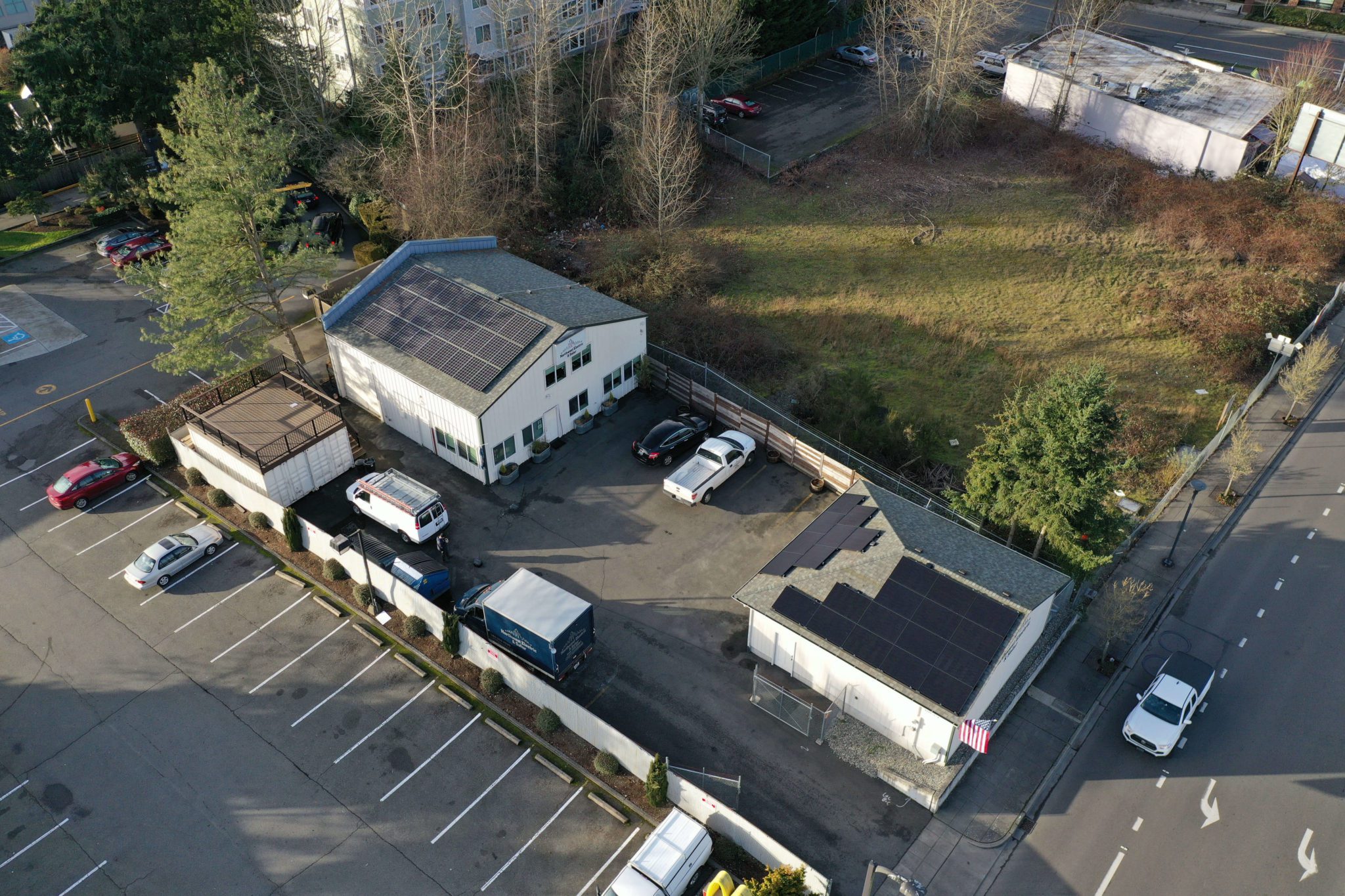 Installing solar panels in Kenmore
Going solar in Kenmore follows the same process as you would in any other city in Washington, with a request for a free estimate! One of our solar technicians will reach out and ask some preliminary questions to define your goals for going solar. You can also use this time to ask clarifying questions about the products we use, timeline, and installation details and learn more about our team and us. Then you'll receive a preliminary proposal with a solar design, the cost of the system, production numbers, and a return on investment chart for cash and loan options.
The process:
Request a Free Estimate
Receive preliminary proposal
Finalize design to meet goals
Sign contract and pay 10% deposit, trigger review process
Complete site assessment and review process
Pay 60% remaining balance to schedule installation
Install solar, pass inspection, and pay final 30% of remaining balance
PSE swaps your meter with a Net Meter and you are good to produce solar energy!
Incentives for installing solar in Kenmore
Kenmore currently does not have incentives that directly affect solar. The State of Washington sales tax exemption on solar energy systems applies to installations done in Kenmore. Also, all residential solar panel systems qualify for the 30% Federal Tax Credit! Dive into the details of solar incentives, local and national through the link below.
The solar permit process in Kenmore
Solar energy system permits are processed and granted through the city of Kenmore's permit office and the MyBuildingPermit site. We ensure that the solar panels we install on your home pass inspection and have an application for interconnection with Puget Sound Energy.
Net Metering with Puget Sound Energy in Kenmore
Puget Sound Energy offers all of its residential and commercial Kenmore customers the opportunity to use solar energy to reduce their electricity bills. With Net Metering, you can also reduce your carbon footprint and still be connected to PSE's grid to ensure you always have electricity. Any excess energy is credited to your bill. Whenever your solar energy system isn't producing, such as on cloudy days or at night, you can use those credits you've accumulated so you don't have to pay for the electricity! If you offset your monthly usage completely, you will still need to pay the fixed charges, such as transmission fees.
PSE and Solar Power
Residential energy customers in Kenmore purchase their electricity from Puget Sound Energy (PSE). This means that when you go solar and produce excess credits during the summer, PSE will bank that energy for you as a credit. The credits you accrue throughout the year are usable until April 1st of the following year; on that day, they reset, and you start again at zero. Also, when your solar installation is complete and passes inspection, you will have to wait until PSE comes out and swaps your meter with a new bi-directional meter. Once that is complete, you can turn your system on and start producing solar energy!
How much do solar panel cost in Kenmore?
Residential rooftop solar system costs can vary depending on many factors. The size of the system and the number of solar panels installed on different roof sections adds materials and labor costs. At the same time, the roof's pitch, the type of roof, and accessibility will also be factored into the final price. Fortunately, as your Kenmore neighbors, there will be no cost added for distance since we can easily get to your place within 20 minutes of our shop.
From low to high energy users or a 5kW to 12kW system, the cost can range between $16,500 to $38,000 for the entire system, permit, material, labor, and warranty.
Kenmore Solar Companies
Northwest Electric and Solar is your one-stop shop for renewable AND Electrical solutions. We are a fully certified commercial and residential electrical company specializing in renewable energy upgrades. Kenmore residents have been a massive part of our business over the last 12 years, whether installing lights, appliances outlets, and EV chargers. We are happy to provide turnkey solutions for home electrification. Installing solar panels occurs on the roof, but it's an electrician's job to ensure it's connected safely and effectively so you can enjoy energy savings for over three decades. The bottom line is that we're here to stay as Kenmore's go-to contractor for solar and electrical projects. Start your project today with NWES!
Reviews from Kenmore Customers
NWES gave me amazing customer service, multiple estimates for my house, accurate estimate on solar production, fair pricing, installation exactly as described, sort after install, etc. and the best part – in the first year, I BEAT their energy production prediction! I recommend that you get a free quote from them and have them do a drone flyby. You can trust what they tell you.
Benjamin D.
FAQ's for going solar in Kenmore
Does solar work in Kenmore?

Yes! Solar works in all parts of Washington. Anytime there is daylight, the photovoltaic (PV) panels will produce electricity with more power produced on sunny days than on cloudy ones. Because we experience very long hours of daylight and sunny weather in summer, power output in July is about six times greater than in December. And Net Metering (one for one credit of KWH) allows excess electricity from summer sunshine to be "banked" to reduce subsequent electric bills.

What is the average specific production of solar in Kenmore

On average, the residential buildings in Kenmore can expect their solar energy systems to produce 968 kWh per kW installed. Specific production is a measure of the efficiency of your system based on solar irradiance, tilt and orientation of your panels to the sun, and the system's efficiency.

What happens when there is a power outage in Kenmore?

During a power outage, the solar energy system automatically shuts down unless you have battery backup—a required safety feature to protect utility workers working on the power lines. A solar energy system is not a source of backup power. A grid-tied solar energy system requires the presence of the grid or battery energy storage system to function during a power outage.

Do I need a battery backup system in Kenmore?

Battery backup systems are only needed if you experience frequent power outages and want a backup technology that pairs with solar. You cannot get a return on investment for battery backup systems because there is no Time-of-Use rate for electricity in Washington that would allow you to charge the batteries at a cheaper rate of the day and use the stored energy during the more expensive rate of the day.

Can I charge my plug-in electric vehicle from solar in Kenmore?

Solar energy produced from your solar panels provides energy for all loads in your home. Charging your EV at home is like powering a load such as a TV or electric stove top. The electricity flowing through your home may be from the grid or your solar panels; if it's during a sunny, cool day and your panels produce power, there's a good chance your EV is being charged by the energy you create. If it's in the afternoon or night, that energy charging your car comes from the grid. Excess power generated during the day is credited to the utility, which then is used at night, so you are still offsetting the usage you'd otherwise be paying for by having solar panels.

I'm not sure how long I will live in Kenmore. What happens if I want to sell my house a few years after I go solar?

Your house in Kenmore will appeal more to buyers because solar will always have a lower electric bill than a comparable house without solar. The new owner will benefit from Net Metering. You will already have received the federal income tax credit and earned back that portion of your upfront cost. Last, if you received a loan to pay for solar, you need to pay off the loan. A solar array adds more value to your home than it costs. The best thing to do is to leave the solar on the house rather than try to take it with you.

Is there enough sunlight in Kenmore for solar?

Short answer, Yes! Although it rains and is overcast most of the year, solar in Kenmore work for several important reasons. First, we have long summer days, allowing Washington's solar panel owners to maximize their energy production and credit their bill through the Net Metering incentive. As we build the credit during the long summer days, savings last throughout the darker winter months. Lastly, the solar access in Washington is greater than that of Germany, which in the 1970s led the EU in solar panel installations and boasts of being the first European nation to adopt solar regardless of its average solar access. 

Are the winter months too dark for solar in Kenmore?

It depends on the home's location and orientation towards the south since, in the Winter, the sun's angle is sharper, thus lower on the horizon, which will cause more shading. The situation surrounding homes will also impact the amount of shade on the roof due to trees, hills, or larger buildings. If your house resides in an open space with no surrounding trees or buildings, you can expect to produce solar energy throughout the Winter! 
Find your Kenmore solar panel solution today!
Going solar is a big investment; partnering with the right company can make this process easy and exciting.  Our job at NWES, beyond providing our services, is to educate on how these technologies work and why we are installing them. Bottom line is that partnering with NWES means partnering with a company made up of fellow Washingtonians on a mission to Electrify Washington!
You can start your process today commitment-free and at no cost with our Free Estimate!