Roof-top solar
When you think of residential solar, a roof-top solar energy system typically comes to mind. Solar panels are oriented around the different roof shapes and obstructions to maximize the usable roof space. Installing solar panels on the roof is a great way to use an existing home feature and, if done correctly, can avoid significant headaches and costs in damages down the line.
Roof type and solar
Roof lifespans differ depending on the type of roof that you own. Solar energy systems installed by NWES come with 25-year workmanship, replacement, and production warranty. So we're breaking down each roof type with the general installation requirements and expected lifespans.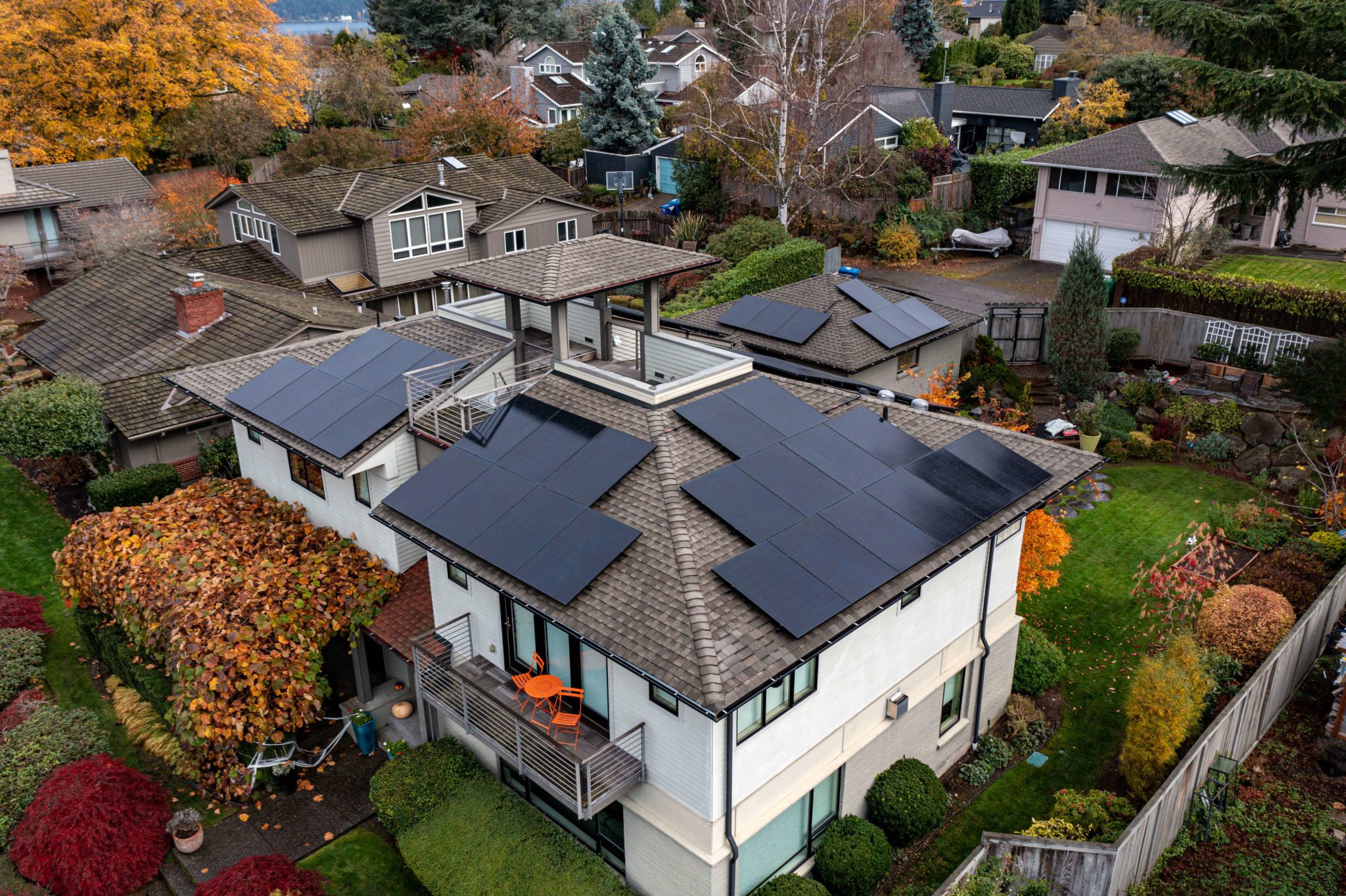 Asphalt (Composite) Shingle
It can last, on average, 20 years and is very common in the Pacific Northwest for single-family homes. They are easy to repair and come in various colors and styles, such as presidential shingles. Solar energy systems are installed retroactively and don't require a separate roofing company for sealing penetrations. If you have a composite shingle roof around 20 years old, we recommend replacing your roof before pursuing solar.
Metal Roofs
Metal roofs are an excellent long-term solution that pairs great with solar! We use S-5! roof clamps to avoid penetrating metal roofs, and even if you've owned the roof for over 20 years, replacing it for solar won't be necessary as the roofs can last between 40-70 years.
Cedar Shake
They are naturally beautiful that come in many shades and patina nicely over their 30-year lifespan. Cedar shake roofs need to catch up regarding price and maintenance; plus, installing solar requires solar racking that replaces the shingles at the attachment points, adding costs to the project.
Rubber Roofing
Rubber roofing materials in the PNW are usually TPO or PVC and on flat roofs. They are durable, light-weight, and average a 40-year lifespan. We have a lot of experience with both TPO and PVC roofs and can employ different racking solutions to match the structural composition of the rubber roof. We will recruit roofing partners to flash around our attachments to ensure secure, water-tight penetrations.
Replacing the roof and solar
If you end up installing a solar energy system on a roof that needs replacing, don't worry, you can still keep your solar energy system! On average, reinstalling your solar panels on your roof will cost about 10% of your initial system cost before incentives. Buying new racking and attachment equipment is the primary consideration for removing and reinstalling solar panels. You don't want to use the old and used attachment bolts and screws on a new roof. Even if you decide to install a different type of roof, we can accommodate the new racking system to match the new roof. The average price can range between four to seven thousand dollars depending on the number of solar panels and roof pitch. Please inquire with your sales rep or contact us directly to see what a removal and reinstallation project will cost you!
Find your solar solution
What's important about looking for your solar energy system is that the expectations, process, and designs are transparent and address your needs. At NWES, we utilize our profound experience of PNW installations to provide you with the best design and customer service. We love to have our team from Washington install solar for fellow Washingtonians. What's great is that we can even offer a Solar Roof!
Tesla Solar Roof
The long-awaited Tesla solar product, Tesla Solar Roof, combines roofing and solar with solar shingles. A premium solar and roofing solution that's durable and beautiful. Inquire today to see if a Tesla Solar Roof is right for you!