Washington Tesla Solar Roof Installation
Tesla's Number One Installer
As an established Tesla Solar subcontractor, Northwest Electric and Solar is now offering the newest home solar solution from Tesla, the highly anticipated Solar Roof. Tesla Solar Roof allows roofing and solar energy systems to blend into one seamless experience, offering all the benefits of traditional PV modules without sacrificing aesthetics.
---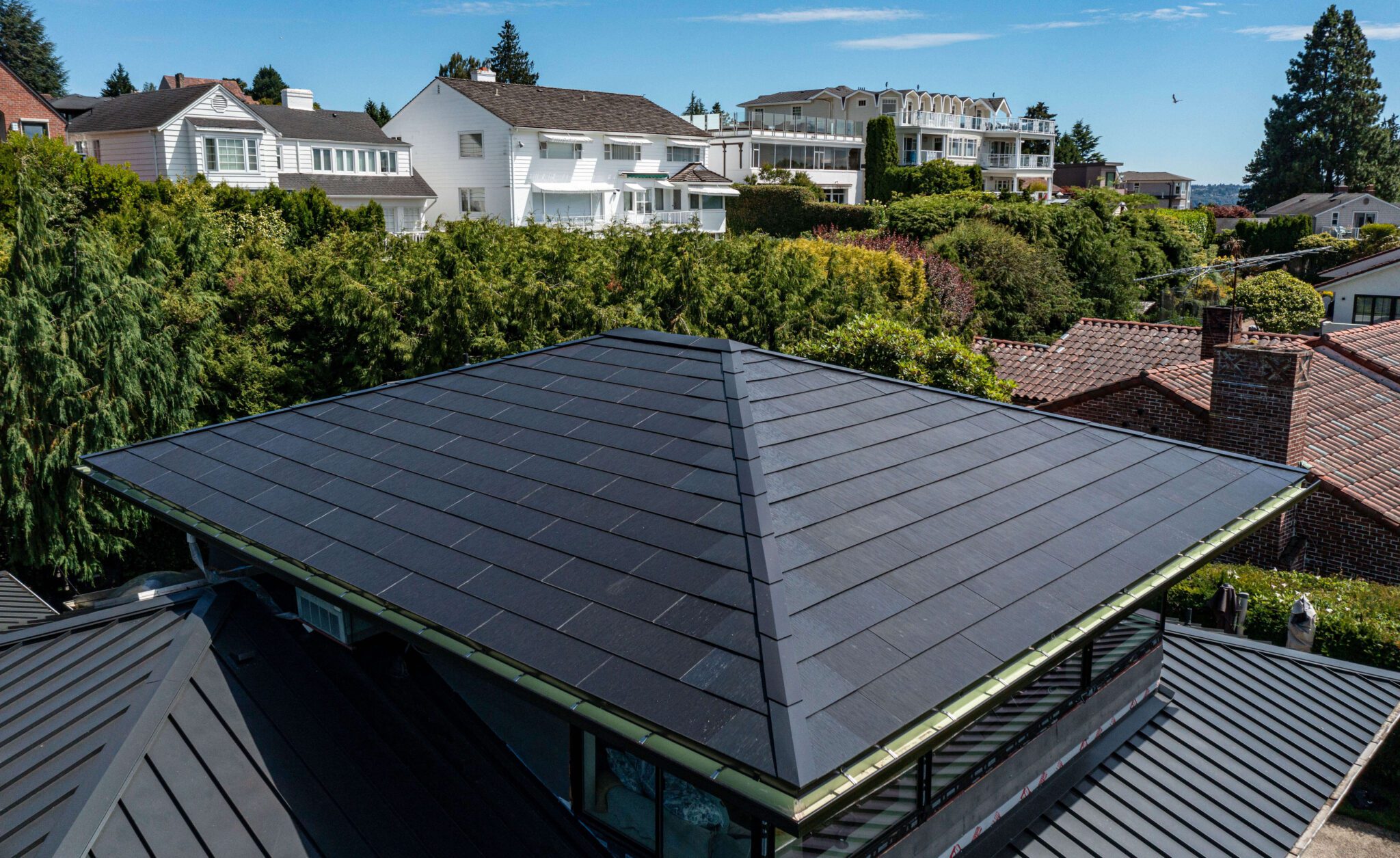 Why Choose Tesla Solar Roof?
Tesla Solar Roof is the ideal solution if you pursue solar energy and need a new roof. Also, if aesthetics are a concern and if you have obstructions on your roof that reduce the usable footprint of traditional solar PV modules, then Tesla Solar Roof is the solution for you!
Solar Roof tiles are the best way to maximize your roof space for solar energy generation and lower utility bills. Insulate yourself from increased electricity costs if you anticipate a higher usage from the electrification of home appliances and electric vehicles charging from home.
If you are not planning on reroofing for another 10+ years and like how traditional solar modules look (we sure do!), you are in luck! We are a certified Tesla Solar Panel installer; request a bid today to find the best solar solution for you and your home.
Beautiful, Resilient, and Flexible
The energized solar tiles on your roof will blend with the non-solar tiles to create a sleek, seamless appearance that traditional PV modules cannot match. With better durability than conventional tile and concrete tiles roofs, you will have a solid, stunning roof with a 25-year energy production warranty.
Getting Started On Your Tesla Solar Journey
The process of getting a Tesla Solar Roof follows that of traditional solar PV quite closely, with a few differences in how your roof is qualified for a Tesla Solar Roof installation. To get started, we'll need the following information. Additionally, our team may reach out to discuss your project and goals further.

Electricity Usage
At least one month's electrical utility bill. The more information you can provide us with here, the more we can fine-tune a system to your specific needs

Site Address
With your home address, we can begin to assess the case for solar and whether you have optimal roof spaces for solar energy production.

Goals
What are your goals and motivation for wanting to generate your own electricity? Do you expect more electricity usage in the future from electric vehicles? Do you want to offset the usage of new electrical appliances? Do you want to reduce your reliance on the grid for energy?
Tesla Roof In the PNW
Tesla Solar Roof is an exciting new product in Washington! Whether you live in Seattle and the central metropolis of King County to the coasts of the Olympic peninsula or the Island Counties. We'll qualify your solar roof potential for free; fill out a free estimate today! As we advance with Tesla Solar Roof, you can expect our top-of-the-line customer service to help bring this bleeding-edge technology as smoothly as the Tesla Solar Roof tiles installed on your home. Click below to submit a form to get your solar journey started!
---
Tesla Solar Roof Incentives
Install Tesla Solar Roof today with a 30% tax credit and sales tax exemption, a Federal and Washington State incentive, respectively, to help you save on the upfront cost of solar energy systems! Learn about the forms and process to submit these incentives once you go solar on our incentives page!